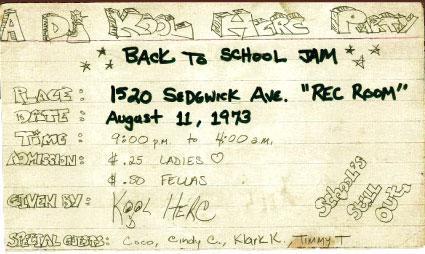 Show notes:
Intro. – True School Era/Style.
Era is generally artists who emerged prior to '82-'83 (Run-DMC Era).
Style is typified by Emcee groups (as opposed to soloists), crews were still "DJ-centric", live performance was still the ultimate test of skills, turntables, beatbox (both human and mechanical), echo chamber, harmonizing, break beats.
Grandmaster Flash & Melle Mel with Disco Bee and Easy Mike - Jamaica, Queens Armory - 1979
• DJ as the center of attention.
• Party-type rhymes, even though Mel already had more developed lyrics (i.e.; "A Child Is Born…"). Rhymes come in sporadic bursts, constantly shouting out the DJ. Almost purely improvisational.
• Disco cuts being rocked by Flash (Love Thang – First Choice, Rock
• With You - Michael Jackson).
• Also on this show was Kurtis Blow, Eddie Cheeba, Starsky, DJ Divine (Infinity Machine).
Easy A.D. of The Cold Crush Four and the Dota Rock of The ORIGINAL Salt & Pepper MC's - South Bronx H.S., 1980
• Whipper Whip & Dota Rock were known as Salt & Pepa, as well as being down with Fantastic Five.
• DJ Charlie Chase on the wheels. Tricks – People Get Up/Get Down mix.
• Style – Trade Off (Names).
• Frequent use of the Echo Chamber.
• Not real adversaries, despite public rivalries. Many emcees were part of other crews than the one's they were known for (i.e. Rahiem of Furious Five originally was down with Funky Four).
Grandwizard Theodore & The Fantastic Five - Harlem World Battle vs. CC4, 1981
• Fantastic won the battle on their home turf.
• They had to overcome the "technical difficulties". Check the "do-over".
• Routines – "Win The G", also do same Romantic Fantastic routine heard in Wildstyle scene at the Dixie.
• Win The G was later done by OC and Bumpy Knuckles.
• From commercial CD release, on which DJ Charlie Chase restored the beats from the original show.
Cold Crush Brothers - From The Album "All The Way Live In '82"
• The routines are tighter than most. Good chemistry, they use multiple variations on the group delivery of their lyrics.
• The booming baritone voices added authority to their delivery.
• Rocking over Spoonie Gee's, "Love Rap".
Johnny Wa & Rayvon with DJ Thai Stick - P.A.L., 1982
• Relative obscurity of this duo (as well as others who performed during that era).
• The cadence and flow were on point, particularly Rayvon.
• Routines were a bit more straight-forwarded, rock a rhyme and pass it style.
• The K.C. & The Sunshine Band track (I Get Lifted) was excellent for their style.
Force M.C.'s (incld. K-Whan) & DJ Dr. Shock - Broadway Intl., 1983
• More popularly known as the Force MD's.
• Original Shaolin (Staten Island, NY) reps.
• Style – "Harmonizing". Lifted harmonies from different cultural reference points...Earth, Wind & Fire's "Fantasy"; "Gonna Fly Now (Theme From Rocky)"; "When Johnny Comes Marching Home"; "Auld Lang Syne"; The Brothers Johnson, Change (Luther Vandross).
• R.I.P. to Mercury and Dr. Shock as well as TCD from the MD's.
Doug E. Fresh & Slick Rick - Lincoln Projects, 1984.
• Routines – La-Di-Da-Di including the infamous Vanessa Williams closing verse and part of The Show.
• Also performed "Treat Her Like A Prostitute" on this tape.
• All beatbox backing....no DJ, not tape.
• Listen for crowd reaction…interesting to hear the audience only being vaguely familiar with the routine (considering how much of an anthem the song is now).
Outro. - Shouts to my O.S.H.H. and Y.T. fams and R.I.P. James Brown.
Hit me up hiphoprevisited@gmail.com or